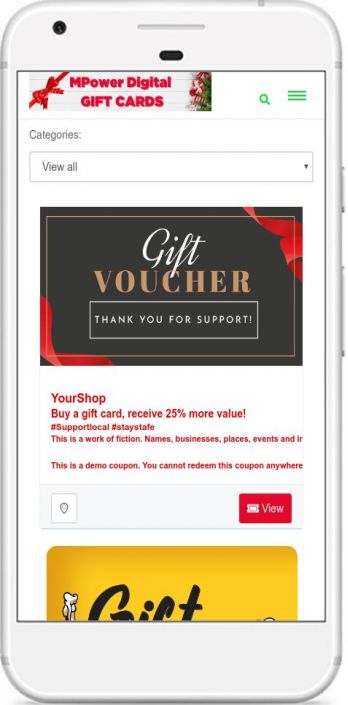 Why a Coupon Directory?
Thanks to the rise of the smartphone, people are connected at all times. Businesses should respond to this by providing Digital Coupon Directories to the right audience at the perfect time. This way you stimulate brand awareness, improve your reputation, and trigger conversions.
What is a Coupon Directory?
A Mobile Coupon Directory is a collection of all your digital deals in one place. There's no need to promote separate discounts if you can easily collect all your discounts in one digital place and reduce the promotion effort.
Advantages
User-friendly: Categories and search functionality.
Customizable: Rebrand and customize your Digital Coupons.
Personalization: The right offer, at the right time to the right person.
User registration: Require users to register themselves before accessing the Coupon Directory.
Trigger conversions: Stimulate desirable behavior.
One place, multiple deals: One digital place, multiple digital deals.
Payment integrations: Allow user registration fees before accessing the directory.
Maps integration: Show the location of your store.
We make it easy!
One-stop solution for the creation, distribution, and validation of Mobile Coupons and Mobile Coupon Directories. [Your Company] simplifies maintaining relationships with your audience.
Digital Coupon Directories are quick wins. With a minimum effort, you can reach immense potential.
Distribution Channels
Native Content

SMS – Digicel Handset

Google Display Ads

Sponsored Social Media
Click here to see Sample Directory: